Miss Nails Ice Cream Collection - Sparkling Coat
Regular price

Rs. 1,180.00
Sale price
Miss Nails Ice Cream Collection - Sparkling Coat
Regular price

Rs. 1,180.00
Sale price
Shipping & Returns
Miss Nails Offers Free Shipping All over India on orders above INR 500. We process all orders within 2-3 working days, however shipping time is subject to order volume and delays are communicated to customers via email. Miss Nails is happy to help you should you receive a product damaged in transit, however we are not liable for the same. We do not accept exchange or return requests. We do our best to get your Order to you in perfect condition, but mistakes can occasionally happen. Please contact our Customer Care team at support@missnailsforyou.com within 7 days of delivery of your Order. Please be sure to provide photos of your broken products with a photo of the barcode label of the product so we can see the shade/Collection name to best assist you.
People are viewing this right now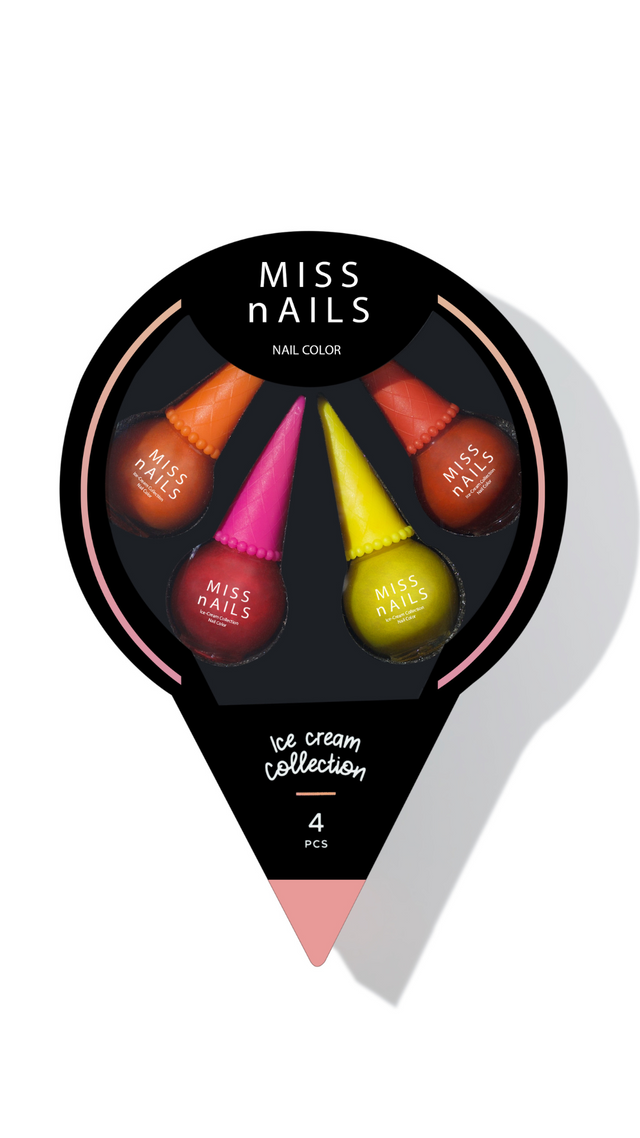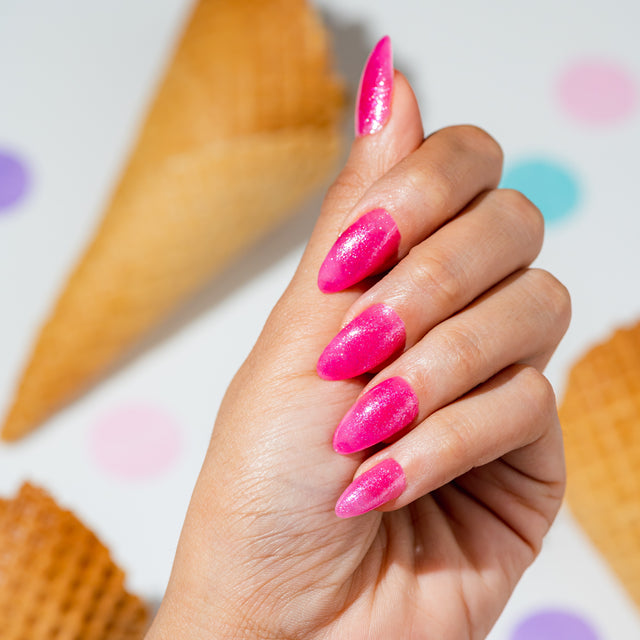 Our limited edition and super-exclusive Ice Cream Collection is now available to order.
Yes, this is an opportunity you wouldn't wanna miss! An exclusive, otherworldly box design with an outstanding collection of shades. Shop now!
Something for a special occasion, or maybe for a moment of brilliance. This has sparkles, fairy tales, and good news written all over it, usually used for expressing excitement or experiencing blissful moments of joy. Four shades in a box of purely pleasing celestial craftwork.
Qty - 10 ml X 4
Cherry Picked - The essence of sinful cherry makes its way onto your hands! This red glitter nail polish with subtle orange undertones is exotic yet youthful

Citrus Spark - Did someone order lemonade with ice, or shall we say 'Citrus Spark' nail polish? It's a lemony yellow cocktail with glitter for your nails, enough to cheer you up on a dull day

Orange Lollie - A classic sherbet nail polish hue that evokes the joy of summer is perfect for an effortlessly fun manicure

FroYo For Brunch - This perky pink nail polish is perfect for a day out or night in with your girls. A hint of glitter adds a carefree, fun spark to the mix
NOTES:
Sparkling Coat polishes is a Nail Topper which can be applied on any Glossy Or Matte finish nails. 
Key Benefits
Unique Formula
A clean and high quality 15 Toxic-free formula that's non carcinogens, Cruelty-free & Vegan. Our Long Curved brush gives a smooth application. 


Add a 'Happy Birthday' Sleeve
Buying amazing Miss Nails enamels as a Birthday present for someone? Choose to add a Birthday Sleeve for your loved ones during checkout. Add a special Birthday Sleeve for only 99 INR.
Proudly Made in India!
All Miss Nails products are proudly made in India. The formulation is done in France.


POLISHES MADE WITH LOVE FOR YOU
Customer Reviews
So good that you can gobble them up! ;)
Have fallen in love with these! Tried these Icecream collection Sparkling Top coats over nudes and got an altogether different shade :) Pro tip: Wear them on a bright sunny day for a day-out with friends, or for a brunch with your loved ones, and see your nails come alive :)
Frequently Asked Questions
How long will it take for my order to arrive?
We ship our orders within 3 business days (business days do not include weekends or holidays)! However, if we have an ongoing promotion or a new launch, orders may take a bit longer to process. Once your order is shipped, you will receive a shipping confirmation via email with an AWB number.
Can I cancel my order after I've placed it?
Yes, the order can be canceled if it is not shipped. Once shipped, we won't be able to cancel the Order.
Can I change my shipping address?
We will be happy to change the shipping address for your order if it is not processed. Please email our customer care team at Support@missnailsforyou.com with your Order number and the updated address ASAP, as we are only able to make changes to your Order if it has not yet entered the packing process. 
A product that I want is SOLD OUT. Will it get back? If yes, how can I be notified?
We have a limited inventory for all Our Collections. Please sign up for our newsletter to be the first to hear about any products/Collection restock. We also announce restock dates via our social media channels.
Do you ship internationally?
No, at present we do not ship internationally. We do hope to start international shipping very soon.
How much does shipping cost?
Standard shipping cost is 49 Rs. per order. We offer free shipping on orders above 1,000 Rs.
Do you offer express shipping?
Yes, express shipping is available at an extra shipping cost. Once your order is placed, write to our customer care team on Support@missnailsforyou.com or you can WhatsApp us at +91-9953202600
What is your return/exchange policy?
We offer replacement of nail polishes if you receive a broken product. Unfortunately, due to the low-cost nature of our products we are unable to offer refunds or exchanges. All sales are final.
If you wish to cancel an order prior to shipping, or have any questions please contact our customer care team at Support@missnailsforyou.com
I'm missing item(s) in my order. How can this be fixed?
Oh no! Please email our Customer Care team on Support@missnailsforyou.com within 2 days of delivery with your order number and a list of the missing products. Please make sure to include a photo of the items & a unboxing video for the package you received and a picture of your packing slip. We will get back to you asap! **Discontinued items will be issued with a store credit for the amount paid.
My order was damaged in transit. What do I do?
We do our best to get your Order to you in perfect condition, but mistakes can occasionally happen. Please contact our Customer Care team at Support@missnailsforyou.com within 2 days of delivery of your Order. Please be sure to provide photo/Video of your broken products with a photo of the barcode label of the product so we can see the shade/Collection name to best assist you.
What does 15-free toxic mean?
It means that all Miss Nails polishes are free of toxic ingredients, which are usually found in nail polishes. At Miss Nails we make all our polishes without the use of 15 most toxic ingredients. To know more about this, CLICK HERE.
What is your ingredient list?
All the Ingredients list are mentioned on the packaging box. See packaging image listed on each product page for the ingredient list. 
Do I need UV light for the Gel top coat?
No, you don't require any UV light for Gel Top Coat, Just simply apply the top coat over a dry nail color, let it dry for good 3-4 minutes to see the Gel effect. 
Where can I reach out for collaboration?
You can reach out for a Collaboration request via our Contact us form.
Can I change the Billing address for my Order?
Oops! Unfortunately, we are unable to edit the billing address once an order has been placed. Not to worry! It appears that you were able to successfully place your order. As long as your shipping address is correct, you will be able to receive your Order!
Can I cancel my Order after I've placed it?
Unfortunately, no. Once an order is placed, you are unable to cancel the order. All Sales are final. We apologize for any inconvenience.
Can I modify my order after I've placed it?
Yes you can. For any changes in your order, please contact our team on Customercare Email Support@missnailsforyou.com Or you can Whatsapp us on +91-9953202600.
Do discount codes expire?
While some things last forever, our discount codes do not. All discount codes will come with an expiration date at the time they are issued so that you can plan your shopping accordingly!
Please keep in mind that discount codes cannot be combined with any other offers that may be live on our site at the time of your order placed. 
How can I pay for my order?
You can make your payment via Razorpay using any of the following options at the checkout.
Net banking, UPI, Wallets, major credit cards, as well as Cash on delivery.
How can I view my order status without an account?
You can log in into your account on our website. Once logged in you will be able to view the status of your order. Although you will still receive all order updates, including confirmation and shipping related information on the registered email address used while placing the order.